Construction industry
Affordable House Construction in India
Affordable housing is a potential alternative to the pre-existing construction technology being used since ages. It is seen as an innovative concept of building houses with an efficient use of materials, reduced construction time and ultimately lowered cost. In India, most of the construction takes place with Reinforced Concrete, which is an expensive affair. Lately, technology has taken a drift in bringing about materials that partially in addition to RCC drop the overall cost of construction.
Masonry acts as one of the major contributor to the construction cost. Technology has influenced it and numerous productive materials have superseded stone and brick. Fly ash bricks or Siporex blocks made up of fly-ash as an admixture to concrete are widely used these days. These blocks are fire resistant and cover a larger area in comparison to bricks or normal concrete blocks.
Source : Fly-ash bricks, Azukotech
Hollow concrete blocks are also used in place of traditional masonry which not only bring down the overall cost of the structure but also have added advantages. They are light in weight and easy to handle which makes the construction process faster. Moreover, these blocks being hollow, provide air gap which acts as an insulation and thus additional materials are not required for the insulation purpose. The mortar requirement is also less and thus the amount of added materials reduces further reducing the cost.
Source :Hollow concrete blocks, Indiamart
Normal RCC slabs certainly are an essential cost elevators. Instead of these, Filler slab technique tailors into the lowering of construction cost. In this technique, grid of RCC is prepared and the filling of concrete is replaced with cheaper materials without compromising to the strength of the slab. Light weight, inert and inexpensive materials such as low grade Mangalore Tiles, Bricks, Hollow Concrete blocks, Clay pots, Coconut shells etc. can be used as filler materials depending on the local materials available.
Another innovative technique of using pre-engineered or factory made products is also a great approach towards the affordable housing construction. These products are prepared in factories, later transported to the site and then assembled in position.
An increase has been noticed in the usage of pre-cast concrete panels for preparing stairs, slabs and floors. This reduces the time that is a major concern in case of the in situ construction process, ultimately reducing the construction cost.
Researchers from IIT-Madras have worked upon creating a model of housing apartment which can be built in a short duration and minimum budget by bringing down cost by 25%. They have used the technology of GFRG (Glass Fibre Reinforced Gypsum) panels which can be used for all structural elements such walls, floors, roof ruling out the traditional column beam system.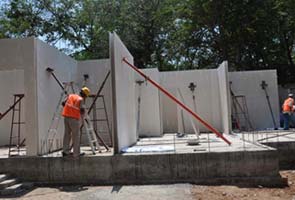 Source : ndtv news
Low cost house construction has become a wide spread concern with momentous growth of nation. Its purpose is to provide a quality living within the low budget of construction and reduce the construction time.
Hire the best house construction service
3100+
Homes
430+
Quality Checks
100%
Safe Money Transaction